Malcolm Anderson History
by Graham Anderson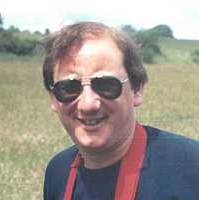 Having worked with Imps for over 46 years, there is little, if anything, Malcolm doesn't know about these superb little machines.
It all started with a dream to work on the railways, as he had been a train spotter / photographer for over 5 years- but at least it was real steam in those days! To prepare him for a life of grime, the family suggested he work in a local garage to see how he would fair with getting his hands dirty for a living. So on leaving school early, around the time England last won the World Cup, Malcolm joined Davenport Vernon, the local Rootes dealers in High Wycombe and as they say, he never looked back.
His love of the Imp started almost from day one and the desire to work on the railways soon began to diminish. Malcolm was privileged to be one of the first mechanics to be sent to Coventry to learn of the technicalities and foibles of all things Imp, becoming the dealer's only factory trained Imp & Transaxle specialist.
The longer he stayed, the clearer it became that one day he would be able to afford his own rear-engined flyer. So it was in 1969 that Malcolm replaced his rapid 1275cc Midget engined Austin A30, to became the proud owner of a Mark One Imp saloon, 367 GXH. A quick respray from Loch blue into a stunning Electric Blue metallic saw the car become an eye-catching machine around town. It was later bored out to 900cc and retaining the original air controlled throttle that operated twin Strombergs after some serious linkage modification!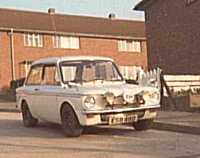 This little demon was followed in1970 by an original ex-works 998cc Rallye IMP in Polar White, Reg. no. ESB 48D, bought in road going condition from Dorking complete with the original round proper Rallye dash. It is believed this car had previously competed in the Tulip Rally in Holland where it finished 2nd overall. Unfortunately, details of the year, and the Driver & Co-driver are unknown (can you help?). Again a repaint was imminent, this time Firecracker orange was applied before Malcolm toured the UK mainland on holidays and various train & plane spotting forays.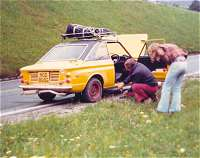 Having got the taste for the performance of 998cc, a Stiletto arrived which was to be the recipient of a bigger engine that was complimented by twin 40 Webers. NOD 905G took Malcolm to many interesting places including the retirement home of his bodyshop friend & paint sprayer in Arnfels,nr Graz, Austria, but not before Bill had applied a topcoat of Sunflower Yellow in High Wycombe! These tours were the source of many interesting tales of events as he drove across and around France, Germany, Switzerland, Italy and Yugoslavia on various holidays in Imps & Hunters, over a number of years.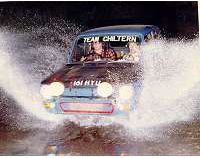 In the mid-70's, Malcolm's interest turned to competition enjoying much success over a 20-year period. Starting with production car trials in an Imp Van & other odd Imps ! and various night rallies to gain valuable experience, and later turning his attention to some of the classic 'Motoring News' rallies, like The Cilwendig, The Agbo and the Tour of Mull. On the stage rally scene, Malcolm was also competing regularly on various events across southern England and Wales. In 1980, Malcolm was at the forefront of the Rally Sport championship in which he finished 2nd overall behind Mike Rackham's Imp after 15 gruelling rounds.
The late 80's saw the introduction of a rapid, tarmac spec. 1120cc Chamois Coupe GYL322J and an equally quick 1228cc Irish competition spec Clan, Q644CVN , both of which carried his familiar red & white colours in the South of England Tarmac Rally championship where Malcolm came 2nd in the up to 1400cc class & 2nd overall in 1987 then 1st in class and 1st overall in 1988 and 1989.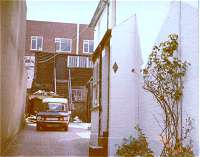 Back to 1981 and the Rootes dealership had now become a non-Chrysler multi-franchise set up and Malcolm's experience of his Imp was no longer being utilised to it's full potential. As a result he bought his first home in Dashwood Avenue and 'Malcolm Anderson Workshops' was born in a Victorian stable building out the back, which was transformed (or was that rebuilt?) into a two storey workshop and storage facility.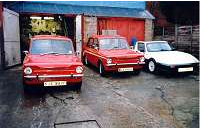 Here Malcolm would tackle any kind of Imp related repair you care to mention, along with a limited amount of bodywork restoration. All this whilst offering a wide range of new and used spares for the DIY enthusiast. At the weekends he'd be off rallying one of his Imps, or chasing steam trains - yes, he's been doing that even longer than he's been working on Imps!... During the evenings & nights, he could be found in the workshop overhauling engines or transaxles - just two of his specialities. He was made redundant from the dealership in Wycombe & made a BIG decision to set up on his own & to this day still dealing with Imps & they said it would'nt work at the dealership !...
He retired from Rallying in 1992 to concentrate on the business. More on the rallying scene later on by Malcolm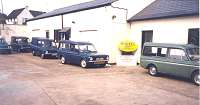 As more stock was purchased it was clear that the workshop and spare bedrooms couldn't cope any longer. Bodywork ceased, more lock-up garages acquired to cope with the increasing storage problem, and so after many happy and successful years at Dashwood Avenue, Malcolm seized the opportunity to move to the outskirts of Taunton in 1998.
From it's new home on the doorstep on the West Somerset Railway, 'Malcolm Anderson Imp Parts', as the business is now known, has continued to grow into one of the largest stocks of new and used Imp spares available to enthusiasts world wide.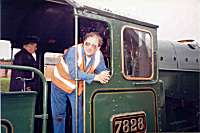 Malcolm has always been a busy person and has never had enough time to work on steam engines, PW track work and he will probably find it harder to do so while there are plenty of Imps still out there to look after!
Malcolm Anderson Imp Parts